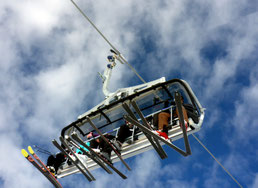 Sometimes when we hear the word "budget" we start to worry that we might not be able to do the things we love. Budget math can be a reality check. It forces us to think about the reality of our expense situation, and make adjustments. A good budget means we spend a little less money than we bring in - and we set aside money for those unexpected expenses that inevitably will arise in the future.
A budget is by no means something that should keep us from doing the things we love – rather it should force us to prioritize our passions above and beyond those things that don't bring us the same level of happiness and joy in life.
As I was sitting on the chairlift with my six-year-old, I kept thinking about how much fun it was to see him learn (and really liking) a sport that I love. But I also kept thinking about how expensive skiing is for a family of four – and how for many people it is a sport that is too expensive. For my family, skiing is a priority – and we have the basic means to make it work in our budget. As the kids get older though, this sport is going to get more and more expensive – and that realization was on my mind yesterday on that lift.
There are two things to share on this and hopefully encourage you in your personal finance journey:
First, I will ensure that our budget prioritizes skiing above less important things. For us, it's a family sport, and something we can plan weekends and family vacations around (and we can drag grandparents along sometimes).  We can hopefully have friends join us on the slopes and on those vacations, too. (And yes, I love to encourage others to get out and take some ski lessons – you know who you are!)
Second, I am willing to get creative to ensure that our budget on skiing can stay reasonable – and that means looking at ways to bring the cost down a bit. Over the last several years, I've thought about what it would take to become a ski instructor – I love teaching (I taught as an adjunct at the college level for several years). In response to one of my New Year resolutions, I have started taking steps toward that goal. This would do several things for me: 1) bring the cost down for my family 2) continue developing my own skills as a skier – if you can teach it, your own skills will improve 3) maintain my personal commitment to life-long learning.
Trevi Tip: Get creative on ways to support your passion and hobby. If there is an opportunity for a side hustle that can help defray an important item in your budget, consider it. You never know where it might lead. Through it all, keep your side-hustle fun – otherwise it won't last, and it will start feeling like a chore.
The bottom line – don't get totally depressed about your budget. Find ways to move forward – and look for creative opportunities to bring your income and expenses in line so you can keep doing things you love. Make sure you prioritize the important things – and let those less important things go, they are simply noise and clutter in your life.